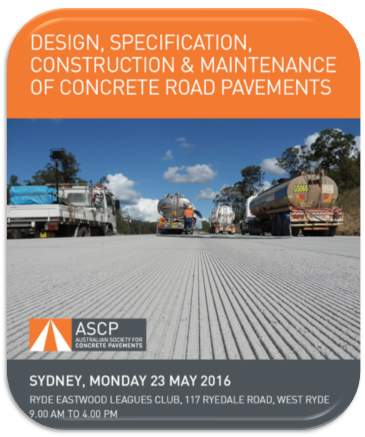 The forum addresses a range of topics relating to the design, specification, construction and maintenance of concrete pavements. There will be a report on the trial of the use of recycled concrete in the select material zone and heavily bound sub-base on an upcoming project to reconstruct and widen a section of the M1 Motorway. Roads and Maritime Services personnel will address the forum on the recent revisions to its standard drawings for new construction of concrete pavements, and provide an update on its specifications for concrete sub-base and base.
Venue: Ryde Eastwood Leagues Club, 117 Ryedale Road, West Ryde
Time: 23 May, 2016, Hosted by ASCP
Cost: Members - $ 0.00
Non Members - $ 100.00
Contact: Kevin Abrams - 02 9918 2610
exec@concretepavements.com.au
To find out more about the Forum, click here.