Vast views of rich red soil stretched for kilometres and scorched by the South Australian sun.
Eucalyptus leaves, crisp from the heat. Natures invigorating scent transferred by the minuscule breeze created by flies as they lapped around the unfamiliar faces who arrived on Anangu Pitjantjatjara Yankunytjatjara Lands.
Welcomed by the Aboriginal community Amata, approximately 1400km North West of Adelaide, was the collaboration between builders from A&J Cook Construction and the team at Ultimate Housing Solutions (UHS).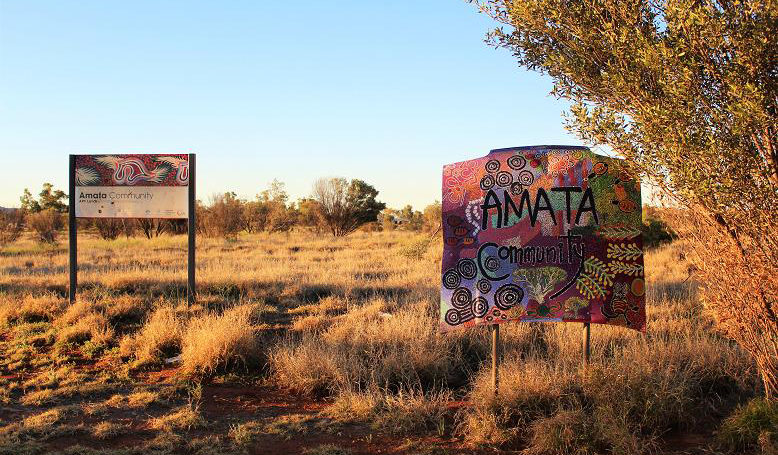 Welcome sign Image: Amata Anangu Store Facebook Page
The multi-day construction project provided a much-needed food store to the remote 455-person town. The community now has access to fresh and healthy foods including fruit and vegetables, frozen meat and additional household goods such as TV sets.
The Amata Anangu Store is designed to withstand rural Australia's harsh environmental conditions. Using UHS high-volume fly ash wall panels, the building is robust and fire-resistant, does not emit toxic gases, provides good insulation and is highly resistant to termites.
Drawing completion in April 2020, the general store used more than 750 fly ash panels and is 1,000 square metres (11,000 sq ft). 600 square metres of storage and 400 square metres of shopping space.
UHS Managing Director Daniel Ward said the fly ash U PANEL's were transported from NSW to SA on a B-Double semi-trailer and their design provided fast and easy construction.
"[Amata was] Hot! It was a challenge getting all our gear there. It was rewarding working in such a harsh environment and a good result being to be able to get the walls built quickly so the roof can go on and provide shelter from the sun," he said.

The U PANEL walls contain a modular locking wall system that eliminates the need for cement, sand, lime mortar, screws, nails, or bolts to join the modules. The innovative low-carbon product reduces build time by 75% compared to bricklaying; providing the Amata community with a cost-effective, easily installed and low-maintenance store.
The store also includes a slab floor and a steel roof frame with insulated roof panels.
Ultimate Housing Solutions work with a mix of large- and small-scale projects in metro and remote locations.
"We plan to have large production facilities built in every state in Australia through licensing. We currently have a plant in Fiji and are looking to expand further in the south pacific and all other countries. We are currently in talks with New Zealand, Vietnam, India and a few others," Ward said.