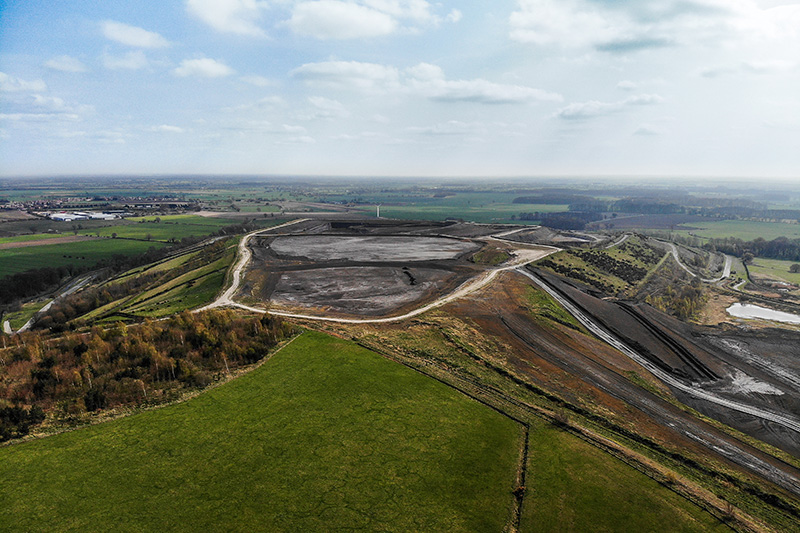 From The Ashes
Andi Hodgson, Nigel Cooke, UKQAA & MPA (UK)
Fly ash from coal-fired power stations has become an important raw material for construction.
But does the decline of coal power mean there's no more ash?
"Reports on the demise of fly ash have been greatly exaggerated!" said Nigel Cooke, Director of the UK Quality Ash Association (UKQAA), the latest trade body to become an affiliate member of the MPA. UKQAA represents companies involved in the supply or use of fly ash in construction materials – a practice that has grown rapidly in the past decade.
Fly ash, also known as pulverised fuel ash (or PFA) is a by-product of coal-generated electricity and is widely used in the manufacture of mineral products such as concrete blocks, ready-mixed concrete, grouts and mortars. And because of its pozzolanic properties – it behaves like cement – fly ash can enhance the performance and properties of concretes, mortars and grouts.
Using fly ash also helps to reduce the demand on primary quarried minerals and means the buildings created with fly ash have a lower carbon footprint than if they had used the equivalent newly-manufactured cement.
In 2012, 50% of the fly ash produced in the UK was landfilled – just five years later, there was a net extraction of fly ash from landfill deposits. Over the next decade UK demand is expected to grow to 3 million tonnes – some of this could be met with imports but making use of the UK's own reserves makes economic and environmental sense.
However, UK Government policy in response to climate change has meant that the UK has seen a rapid decline in coal fired power generation. Today, the UK's demand for power is mainly met by renewables, gas and nuclear. The few remaining coal-fired power plants are all scheduled to close by 2025 at which point no more fly ash will be produced in the UK.
But the story doesn't end there . . .
"In fact, there are huge 'reserves' of coal derived fly ash across the UK," explained Nigel. "These reserves have accumulated over previous decades when supply far outpaced demand and fly ash was seen as a waste, rather than a resource. Together the reserves are estimated to be over 100 million tonnes – enough to supply block manufacturers, concrete producers and grouters with an excellent cementitious material for many decades to come."
And whilst the landfilled fly ash requires treatment such as screening, drying, de-agglomeration (and, when it's used as a pozzolan, carbon removal might be required) the UKQAA has identified commercially viable technologies proven to produce materials that meet the required standards for construction. Indeed, when it comes to demonstrating the performance of ash in cement-based applications, the UKQAA has a history of sponsoring research projects with institutions such as the Concrete Technology Unit at Dundee University.
"Despite the fact that these single use deposits of fly ash are an important national resource, many organisations – from government departments and local planning authorities to landowners and developers – have written off, overlooked or simply not been aware of the potential of fly ash as a construction material," continued Nigel.
"Until the reserves are safeguarded, and treated in the same way as primary minerals by inclusion in national planning guidance, these locations are viewed as brownfield sites for redevelopment. That could prevent the deposits from ever being used. As a consequence the fly ash should first be extracted and then over time, the land can be restored and prepared for future use whether that's built development, agriculture or nature conservation."
Safeguarding is also important because in the UK the landfill deposits are 100% fly ash rather than mixed with other coal power station by-products such as bottom ash, gypsum or 'scrubber' wastes. This means the ash is already of a relatively consistent quality which is essential to optimise its use as a secondary mineral or aggregate.
"So far we're getting positive signs from Government about safeguarding these single use deposits of coal derived fly ash," continued Nigel. "Discussions with MHCLG,DEFRA and BEIS – supported by our colleagues at the MPA – are going in the right direction but we're aware that it can take years to change planning guidance and we don't have that long before some of these sites come up for redevelopment. In the meantime we hope that planning authorities will see the advantages of using coal derived fly ash and make the right decisions to allow this secondary mineral to make a valuable contribution to the UK construction sector for many decades to come."
There are at least 16 locations of single use deposits of coal derived fly ash across the UK.
Gale Common near the former Eggborough Power Station, North Yorkshire could supply up to one million tonnes of fly ash per year for 25 years.