Magnesium is a critical mineral and is usually made from dolomite, the Earth's 7th most common element. Its main uses are in the automotive, aluminium and steel industries among others, and it's seen as a hot commodity overseas and especially in China. Currently, it is estimated that one million tonnes of this metal is produced and sold every year, with demand expected to double within this decade.
Having recognised this opportunity and intending to support principles of the circular economy, ADAA member Latrobe Magnesium (LMG) stepped in to seize an important opportunity. LMG has is starting the construction of its $50 Million magnesium demonstration plant that will produce magnesium metal from fly ash that will come from EnergyAustralia's Latrobe Valley mine in Victoria (who is also a member of the ADAA). Once the plant is operating successfully, an "upscaled" magnesium plant is set to be constructed, using the processes developed in the demonstration plant.
Having been accumulated over 20 years in the mine's repositories, the fly ash will be repurposed for a greater cause. This fly ash will be the main ingredient to the final product that is to be sold under long-term contracts in the United States and Japan.
Currently, LMG is the only entity on the ASX with exposure to magnesium, meaning the opportunity for success is almost guaranteed with the growing demand for this project.
LMG says that the plant is on track to begin production at the end of 2022/ beginning of 2023, which is the perfect time to utilise the benefits of the growing automotive industry. This expanding industry uses magnesium to create aluminium sheet panels in cars but in particular, EV's (electronic vehicles).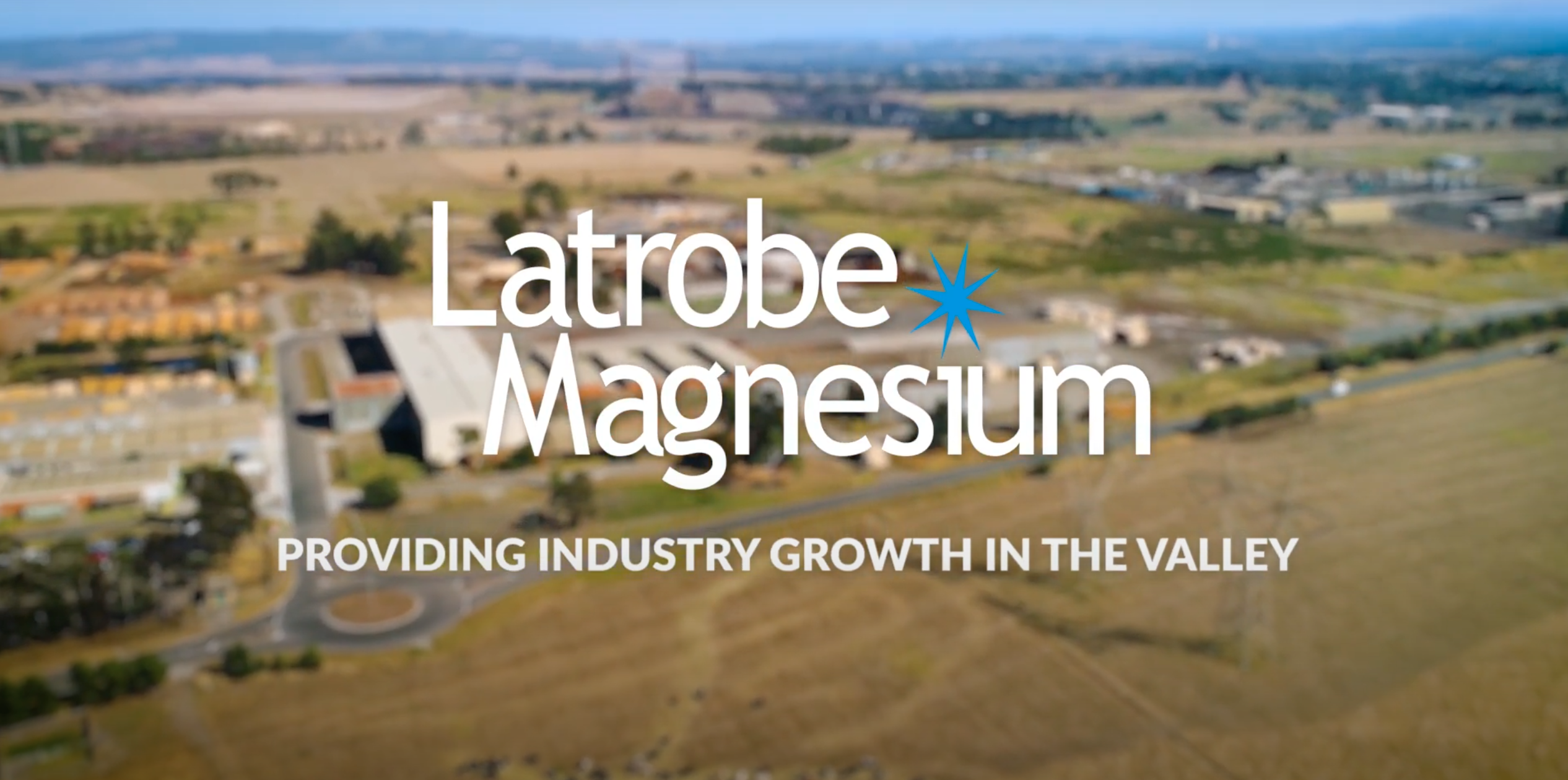 Credit: Latrobe Magnesium
The demonstration plant- a pathway to CO2 efficiency and success
In efforts to predict the level of success the final plant will achieve, LMG is constructing a demonstration plant in partnership with Mincore Pty Ltd (Mincore).
On the 28th of June 2021, LMG awarded an Engineering Procurement & Construction Management (EPCM) contract to Mincore for Latrobe Magnesium's Demonstration Plant which has been built in Hazelwood North, Victoria. The plant will produce magnesium metal and a cementitious material from fly ash produced at Yallourn's brown coal power station. The cementitious material made will emit no CO2 and can be blended up to 30% with Portland cement which make a cement which can set within 7 days. The upscaled plant will use the ash generated yearly by Yallourn and also its ash landfill.
ADAA member CSIRO is assisting Mincore in supporting LMG in testing and refining new technologies to improve operations inside the plant. In addition to this, prototypes and plant trial runs are also underway, which appear to be carbon efficient.
LMG shared a post on LinkedIn stating the demonstration plant is progressing successfully but also contributing to its carbon emission goals. "Our Demonstration Plant produces Magnesium from recycled fly ash and emits 53% fewer CO2 emissions than major global Magnesium producers," it said.
The industry average of producing magnesium is currently 21.8 tonnes of CO2 per tonne of Magnesium which is not ideal for a company that is aiming to reduce its emissions. This isn't a problem for LMG so far, "LMG is only producing 10.2 tonnes of CO2 per tonne of Magnesium, championing a cleaner, greener way of producing Magnesium," they continued.
LMG says they are proud of their low emission processes, "... and hope to see greater use of green Magnesium to lightweight vehicles, electric or not, and make them more energy-efficient," they said.
LMG's CEO, David Paterson told the ADAA that, "LMG's net zero emissions plan is to incorporate a renewal energy source in its upscale plant. LMG's emissions are generated from the gas it currently uses as the energy source for the plant. If gas is replaced with a renewal source, there would be very little CO2 emitted," he said.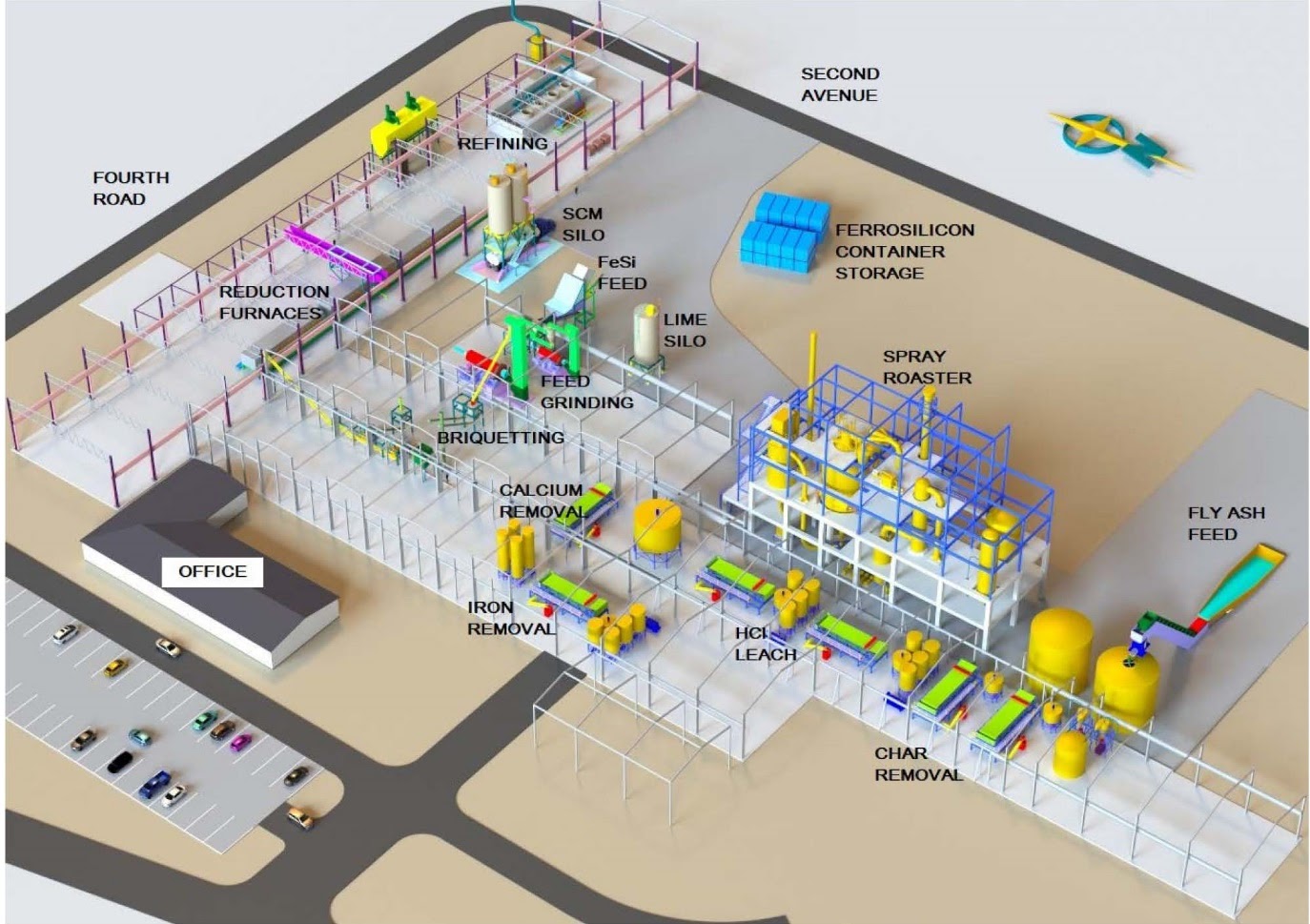 - Proposed layout of the demonstration plant (artist's interpretation) Credit: Latrobe Magnesium
LMG's hydromet extraction processes incorporate an alkali and an acid to treat different fly ashes. LMG's acid approach will be used to treat Yallourn fly ash by:
• Dissolving Magnesium (Mg), iron and calcium minerals with Hydrochloric Acid (HCl), & leaching out magnesium as MgCl2
• Removing Iron Oxide (Fe2O3) & calcium as Calcium Carbonate CaCO3
• Converting MgCl2 into Magnesium Oxide (MgO) & recovering the HCl for reuse in the process
• Processing MgO into Mg and SCM using the thermal reduction process.
Credit: Latrobe Magnesium
Over the next few months, LMG will be continuing its design and engineering work and preparing the tender package for the construction of the new plant. Upon completion of this work, the construction will start with the commissioning of the plant expected by the end of December 2022. The work that is associated with this project is a fantastic opportunity for LMG and some of our other members that contributes to a better, more green future for Australia and the rest of the globe. The future is bright for LMG, and we look forward to seeing where it takes you on this endeavour.
A special thanks to Mr David Paterson for his assistance with providing information and guidance for this story.
To read more click HERE