Coal ash continues to be seen as a substantial asset that propels positive environmental, economic, and performance benefits to various high-value-added applications. Therefore, it is no wonder the beneficial use of coal ash continues to grow with approximately 60% of the material that was produced in the U.S. during 2021, having been recycled. This has increased from 59% in 2020, and becomes the 7th consecutive year that more than half of coal ash has been used in beneficial applications such as concrete production, rather than disposed of.
According to the just-released 2021 Production and Use survey by the American Coal Ash Association (ACAA), nearly 4.5 million tons of previously disposed of ash facilitated a variety of applications in 2021. This included coal ash pond closure activities, concrete products, cement kiln raw feed, and gypsum panel manufacturing. The capacity of harvested ash was approximately 12%, equating to more than 500,000 tons, over the previous year. Evidently, coal ash is considered waste and when not utilised can end up in landfill or waterways, polluting surrounding areas; promoting how instrumental recycled coal fly ash can be on the circular economy and sequentially a sustainable future.
Credit: Reds Landscaping
ACAA Executive Director, Thomas H. Adams, emphasised how markets are adapting to the emergence of CCPs, as well as technological advancements that impel safe production. He explains, "Harvested ash utilisation volumes now equal nearly 10 percent of the volume of ash recycled from current power plant operations...The rapidly increasing utilisation of harvested coal combustion products shows that beneficial use markets are adapting to the decline in coal-fueled electricity generation in the United States. New logistics and technology strategies are being deployed to ensure these valuable resources remain available for safe and productive use. We must continue to support these practices that safely conserve natural resources while dramatically reducing the need for landfills," he said.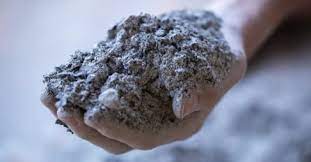 Credit: CarbonCure - Fly Ash in concrete
Use of coal fly ash in concrete and cement production
The use of coal fly ash in concrete continues to increase, from 11.1 million to 11.9 million. This was due to the growing preference of coal fly ash from concrete producers and consumers as significant improvements continue to be realised in the production of concrete. This included enhanced durability, as well as significant reductions in greenhouse gas emissions.
Additionally, the use of coal combustion products in cement production increased by 14% to 5.6 million tons.
Highlights of CCP production and use in 2021 include:
Utilization of a key "non-ash" coal combustion product also posted a significant increase. Synthetic gypsum is a byproduct of flue gas desulphurization units, also known as "scrubbers," located at coal-fueled power plants. Use of synthetic gypsum in panel products (i.e. wallboard) increased 15 per cent to 11.7 million tons.
Synthetic gypsum use in agricultural applications – in which the gypsum improves soil conditions and prevents harmful runoff of fertilizers – remained about level at 822,902 tons.
Use of CCP in pond closure activities declined from 3.4 million tons to just under 3 million tons. This activity is driven by utility compliance with coal ash regulations enacted in 2015 that effectively require an end to the practice of wet disposal. Fly ash, bottom ash, and synthetic gypsum were all used in the construction of new permanent disposal facilities.
Use of CCP in structural fills rebounded in 2021 following several years of declines, increasing from 816,543 tons in 2020 to just over 2 million tons in 2021.
Production of boiler slag also rebounded from 834,000 tons in 2020 to 1.2 million tons in 2021, with utilization in the production of blasting grit and roofing granules increasing from 273,548 tons to 481,245 tons.
Following a year in which no cenospheres were reported as being marketed, 2021 saw 107,835 pounds of the material sold.
Check out ACAA's website for additional resources, including the news release, and the 2021 Production and Use report table, handy charts representing CCP utilisation over time.