Upcoming Conferences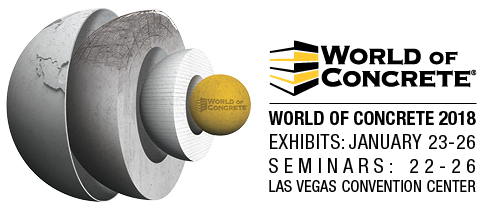 World of Concrete, the largest annual international event dedicated to concrete and masonry professionals.
Leave with the core knowledge and latest equipment you need to win more jobs and strengthen your business. This is your world.
ABOUT WOC: Introduced to the commercial construction industry in Houston, Texas in February 1975, World of Concrete presented 77 exhibiting companies in 22,200 net square feet of exhibit space with 1,550 construction industry professionals in attendance.
43 years later, World of Concrete now boasts more than 1,500 exhibiting companies and 55,000 registered industry professionals in more than 725,000 net square feet of exhibit space.
---
Past Conferences
Past conferences both organised and supported by the Association:
1999 - Concrete 98, Sydney, NSW - Concrete Institute of Australia biennial conference
2001 - Pittsburg Coal Conference, Sydney, NSW
2001 - Concrete 2001, Perth, WA - Concrete Institute of Australia biennial conference
2002 - Geopolymer 2002
2003 - International Ash Utilisation Symposium, Lexington Kentucky, USA
2003 - International Conference on Coal Science 2003
2005 - World Of Coal Ash 2005
2007 - World Of Coal Ash 2007
2009 - World Of Coal Ash 2009
2010 - Construction Material Industry Conference 2010
2011 - Concrete 2011
2011 - World Of Coal Ash 2011
2012 - Construction Material Industry Conference 2012
2013 - ASCP 2013
2013 - CAA 2013
2013 - Concrete 2013
2013 - Poland
2013 - South African Coal Ash Association Forum 2013
2013 - TCE 2013
2013 - World Of Coal Ash 2013
2013 - Concrete 2013
2014 - CAA 2014
2014 - Combined Austrailian Materials Societies 2014
2014 - Construction Material Industry Conference 2014
2014 - EuroCoalAsh
2014 - NACB Conference
2015 - World Of Coal Ash 2015
2015 - Concrete 2017
2016 - Construction Material Industry Conference 2016
2017 - World Of Coal Ash 2017
2017 - Concrete 2017