Coal Combustion Products FactBook: eBook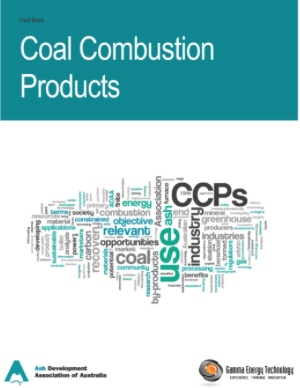 Following the successful launch of our 2nd Ed. Coal Combustion Products Handbook in 2014, the Association is excited to announce our latest e-publication endeavour -- the Coal Combustion Products FactBook -- with the primary objective to communicate the complex ideas about coal combustion products to a broader and less technical audience.
FAQ.
Q. What is a FactBook?
A. It is a proven, simple 'story telling' methodology to communicate complex ideas to a broad range of audiences.
Q. How can the FactBook improve my understanding of coal combustion products?
A. The FactBook helps breaks down complex concepts into easily understandable ideas and demystifies coal combustion and resulting by-products with references for further reading
Q. Who is the FactBook audience?
A. Anyone who needs to systematise, simplify and unlock the value of coal combustion products so they can disseminate understanding
The FactBook provides readers with an introduction to the world of CCP's, including; coal formation and types, coal combustion products production, collection, uses and references to Global and Australian markets. Published in an ebook format we hope to increase the readability and accessibility for the general user community.
Interesting fact -- Did you know global ebook revenue is currently valued at 13.5 billion dollars and growing? We hope that using the ebook format the FactBook will be more accessible than hard-copy counterparts, fulfilling one of the major goals of the project.
The FactBook is available across a multitude of ebook platforms and operating systems including Apple iBooks, Amazon and the Google Play Store. Utilising these diverse online platforms will provide easy access for our members, stakeholders and the public, providing an informative reference guide for CCP's. To ensure your viewing experience, for apple devices such as iPads,iPhones please download our eBook from the Apple iBook store and for all android devices follow the links to the Google Play Store.
About the ebook concept developer -- Dr Geoff Bongers, is a Technology Consultant with Gamma Energy Technology, having extensive experience within the global mining, aluminium and energy companies aided. Dr Bongers has aided us with the compilation of this ebook, using his well-honed ability to take complex ideas and concepts and distill them down for general consumption.
FactBook -- Contents
Coal Combustion Product Summary
Coal Formation
Coal Combustion Product Collection
Coal Combustion Product Use
Coal Combustion Product Volumes