Launched in late 2006 by the National Technical and Education Committee, Coal Ash Matters (CAM) is a biannual publication produced by the Association and its members, with the strategic objective to disseminate current news, research and initiatives of the industry to members and interested readers. Since our first edition, CAM now attracts a targeted and qualified readership of over 2,000 industry members, coal combustion products producers, processors, users and government agencies and regulators. CAM is available for free download by clicking on the cover page of the issues below (file available as PDF) or by perusing through the ISSUU 'flip book'.
Contribute to CAM: send your article idea, dot points or photos and we will work alongside you to turn it into a story. Email the Ash Development Association of Australia Communications Coordinator Sam Patane, at info@adaa.asn.au
Don't want to miss the next edition? Register here.
Coal Ash Matters - April 2023 Download
Coal Ash Matters - October 2022 Download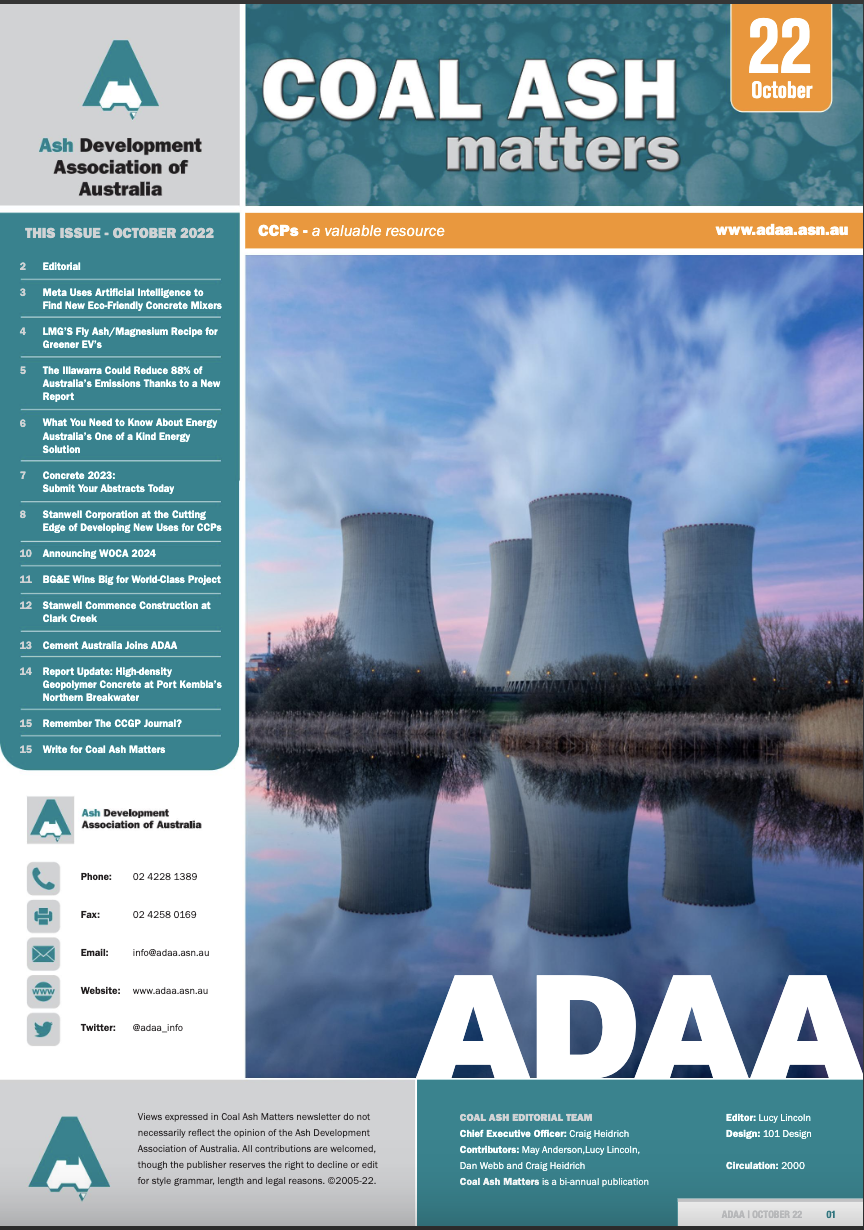 Editorial
Meta Uses Artificial Intelligence to Find New Eco-Friendly Concrete Mixers
LMG's Fly Ash / Magnesium Recipe For Greener EV's
The Illawarra Could Reduce 88% of Australia's Emissions Thanks to a New Report
What You Need to Know About Energy Australia's One-of-a-Kind Energy Solution
Concrete 2023: Submit Your Abstracts Today
Stanwell Corporation at the Cutting Edge of Developing New Uses for CCPs
Announcing WOCA 2024
BG&E Wins Big for World-Class Project
Stanwell Commence Construction at Clark Creek
Cement Australia Joins ADAA
Report Update: High-density Geopolymer Concrete at Port Kembla's Northern Breakwater
Write for Coal Ash Matters
---
Coal Ash Matters - April 2022 Download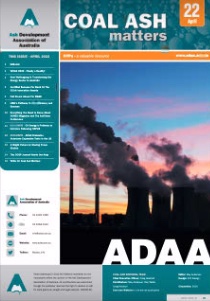 Editorial
WOCA 2022- Finally a reality!
Success Granted For Boral At The CCAA Innovation Awards EXCLUSIVE
How Wollongong Is Transforming The Energy Sector In Australia
Full Steam Ahead For BG&E
LMG's Pathway To CO2 Efficiency And Success
Everything You Need To Know About The ASHES Magazine and AshTrans Conference
EXCLUSIVE- CS Energy's Pathway To Net-Zero Following COP26
EXCLUSIVE- ACAA's Appeal to Evaluate Autoclave Expansion Tests For Fly Ash In The US.
A Bright Future For Eraring Power Station
The CCGP Journal Needs Our Help.
---
Coal Ash Matters - June 2021 Download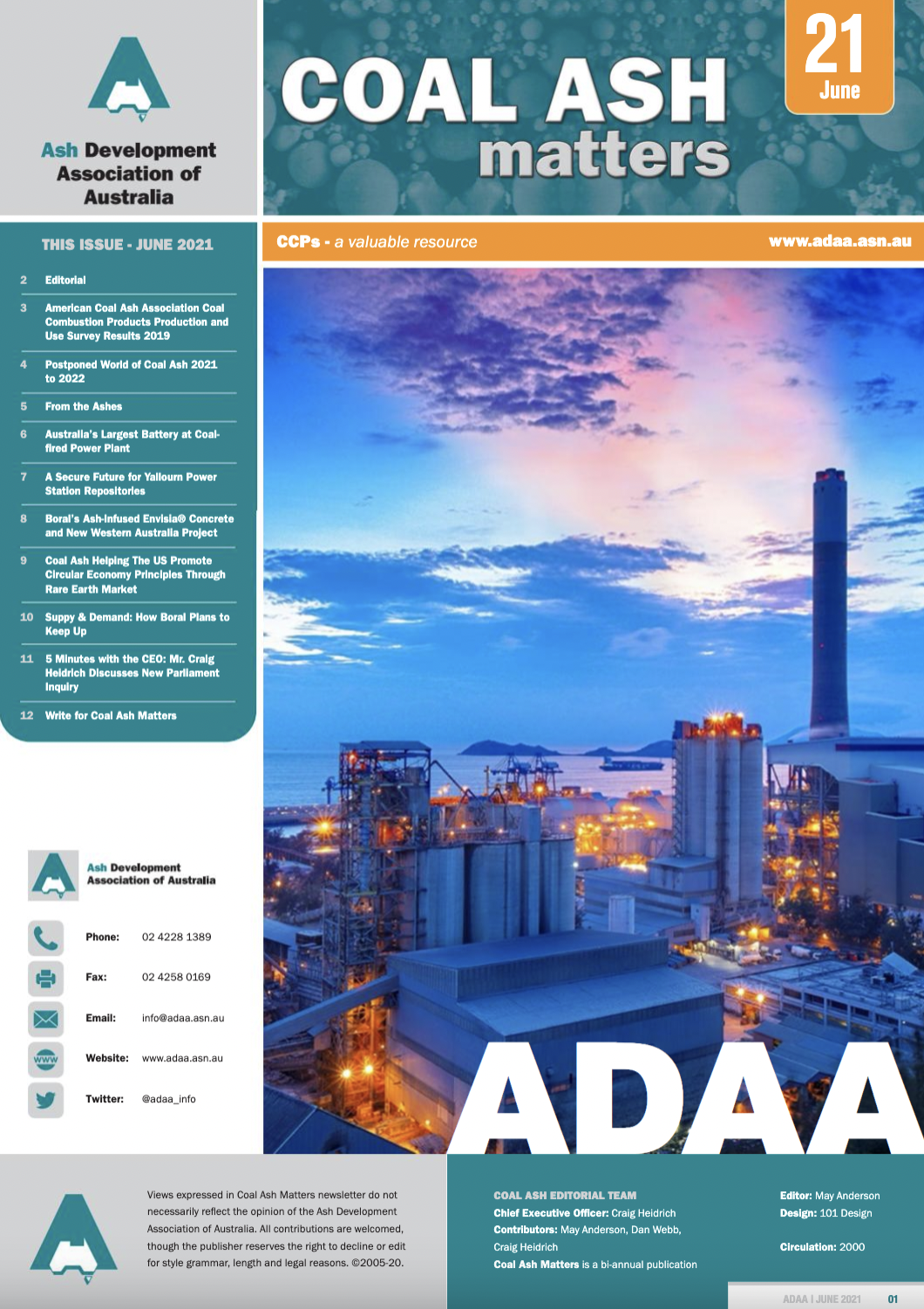 Editorial
American Coal Ash Association Coal Combustion Products Production and Use Survey Results 2019
Postponed World of Coal Ash 2021 to 2022
From the Ashes
Australia's Largest Battery at Coal-fired Power Plant
A Secure Future for Yallourn Power Station Repositories
Boral's Ash-Infused Envisia® Concrete and New Western Australia Project
Coal Ash Helping The US Promote Circular Economy Principles Through Rare Earth Market
Boral's plans to keep up with the growing demand for concrete and fly ash
5 Minutes with the CEO: Mr. Craig Heidrich Discusses New Parliament Inquiry
Write for Coal Ash Matters
---
Coal Ash Matters - December 2020 Download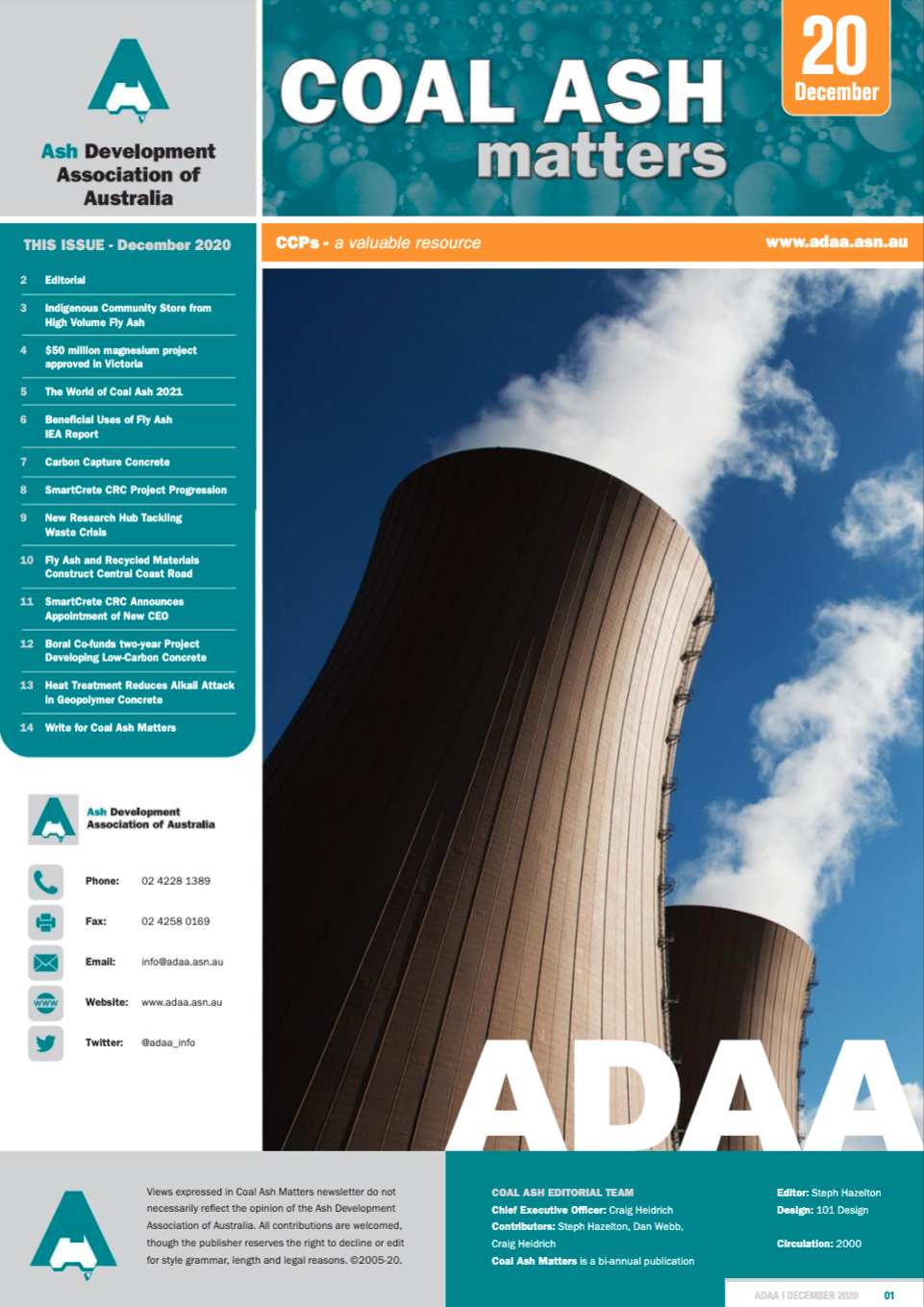 Editorial
Indigenous Community Store From High Volume Fly Ash
$50 Million Magnesium Project Approved in Victoria
The World of Coal Ash 2021
Beneficial Uses of Fly Ash IEA Report
Carbon Capture Concrete
SmartCrete CRC Project Progression
New research Hub Tackling Waste Crisis
Fly Ash and Recycled Materials Construct Central Coast Road
SmartCrete CRC Announces New CEO
Boral C-Funds Two-year Project Developing Low-Carbon Concrete
Heat Treatment Reduces Alkali Attack In Geopolymer Concrete
Write for Coal Ash Matters
---
Coal Ash Matters - April 2020 Download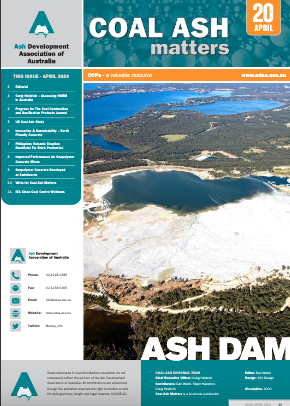 Editorial
Craig Heidrich - Assessing NORM in Australia
Progress for The Coal Combustion and Gasification Products Journal
US Coal Ash Study
Innovation & Sustainability - Earth Friendly Concrete
Phillippines Volcanic Eruption Beneficial for Brick Production
Improved Performance for Geopolymer Concrete
---
Coal Ash Matters - December 19 Download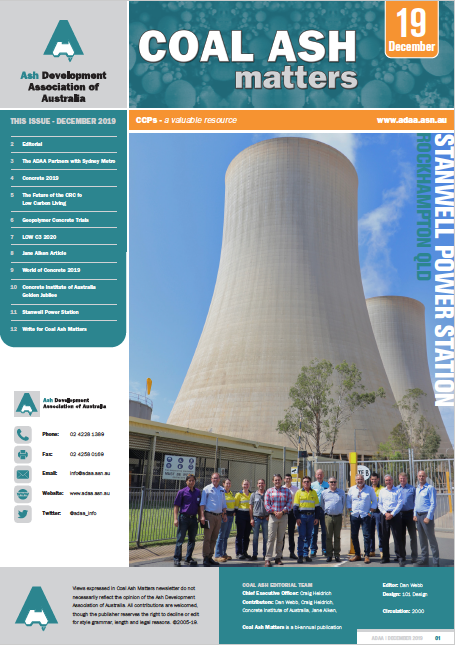 Editorial
ADAA & UNSW Partners with Sydney Metro
CONCRETE 2019
Geopolymer Roads
LOW C3 2020
Dr Jane Aiken
CIA Golden Jubilee
The Future of the CRC for Low Carbon Living
---
Coal Ash Matters - June 19 Download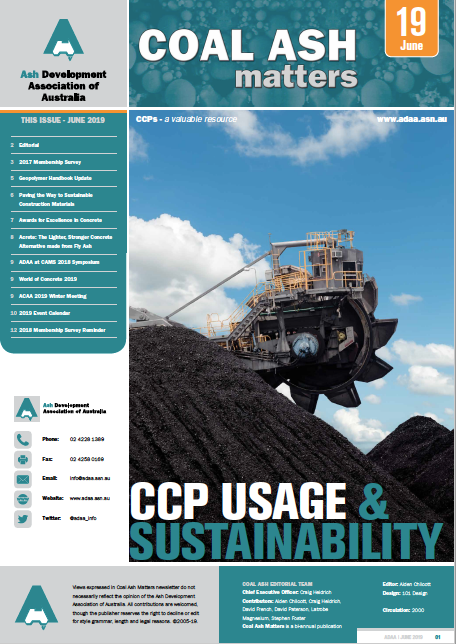 Editorial
2017 Membership Survey
Geopolymer Handbook Update
Paving The Way To Susutainable Construction Materials
Awards for Excellence in Concrete
Acrete: The Lighter, Stonger Concrete Alternative from Fly Ash
City of Sydney Embrace Low Carbon Geopolymer Concrete
ADAA at CAMS 2018 Symposium
World of Concrete 2019
ACAA 2019 Winter Meeting
2019 Event Calendar
2018 Membership Survey Reminder
---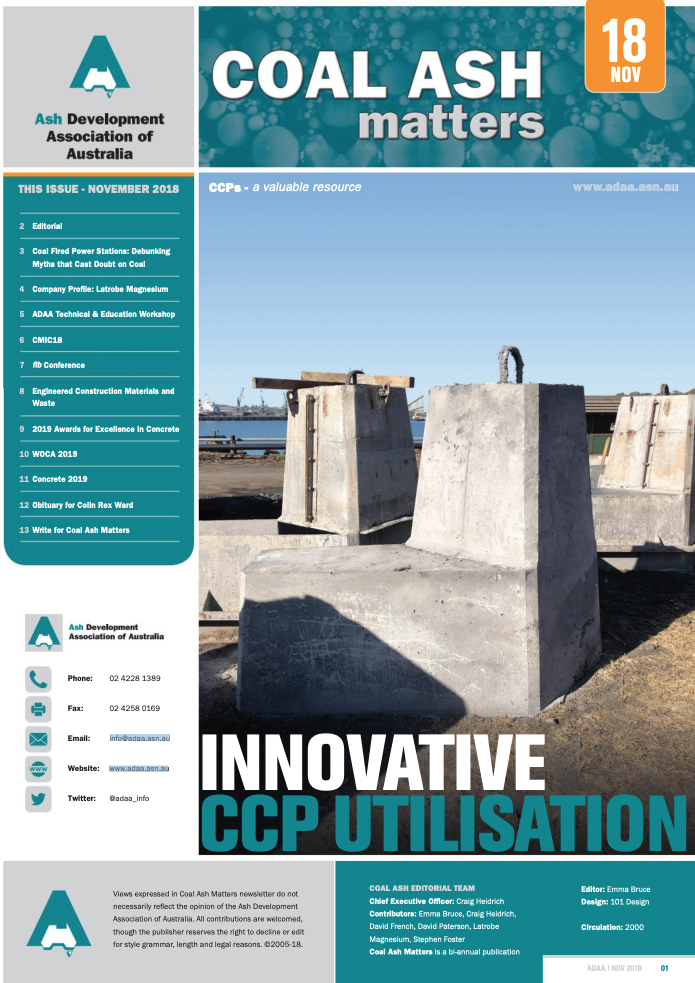 Coal Ash Matters - November 18 Download
Editorial
Coal Fired Power Stations: Debunking the Myths that Cast Doubt on Coal
Company Profile: La Trobe Magnesium
ADAA Technical and Education Workshop
CMIC18
fib Conference
Engineered Construction Materials & By-Products
2019 Awards for Excellence in Concrete
WOCA 2019
Concrete 2019
Obituary for Colin Rex Ward
Write for Coal Ash Matters
---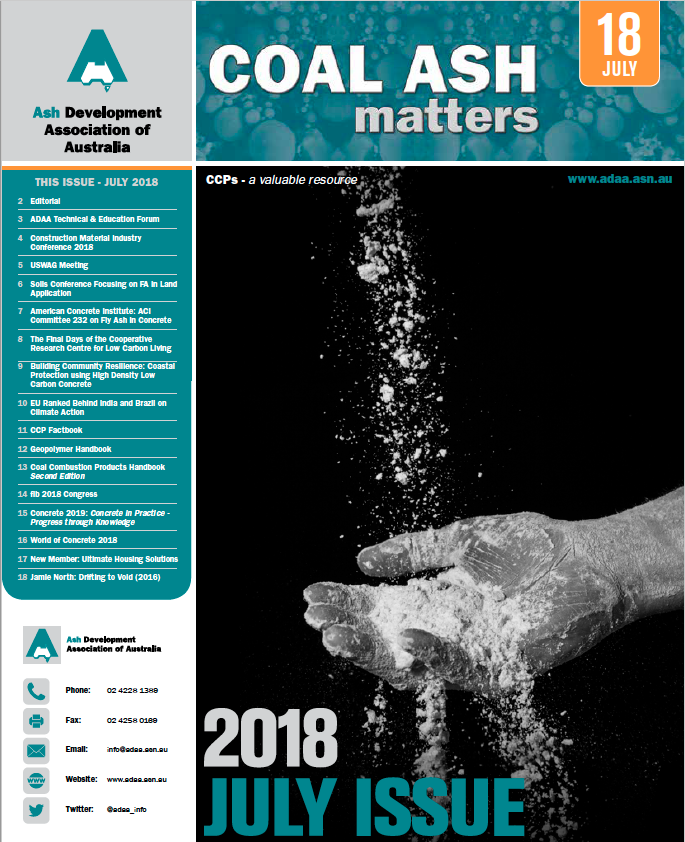 Coal Ash Matters - July 18 Download
Editorial
ADAA Technical & Education Forum
Construction Material Industry Conference 2018
Soils Conference Focusing on FA in Land Application
American Concrete Institute: ACI Committee 232 on Fly Ash in Concrete
The Final Says of the Cooperative Research Centre for Low Carbon Living
Building Community Resilience: Coastal Protection using High Density Low Carbon Concrete
EU Ranked Behind India and Brazil on Climate Action
CCP Factbook
Coal Combustion Product Handbook - Second Edition
fib 2018 Congress
Concrete 2019: Concrete in Practice - Progress through Knowledge
World of Concrete 2018
New Member: Ultimate Housing Solutions
Jamie North: Drifting to Void (2016)
Coal Ash Matters - November 17

Download

Concrete 2017: Advances in Concrete Materials and Structures
Craig Heidrich awarded Life Membership of CIA
Awards for Excellence 2017
World Wide Coal Combustion Products Network - The Global Operating Environment
New Member - Sphere One
Coal Combustion and Gasification Products
CemAssure - The Conformity Assessment Scheme
Coal Ash Asia 2017
ADAA - Handbook
American Coal Ash Association - Scholarships Available
Jamie North Concrete Structure
Membership Survey - CCP Utilisation
Membership Table
New Headquarters
ADAA - Factbook
ADAA - Technical Note
The Illawarra Could Reduce 88% of Australia's Emissions Thanks to a New Report
The Illawarra Could Reduce 88% of Australia's Emissions Thanks to a New Report