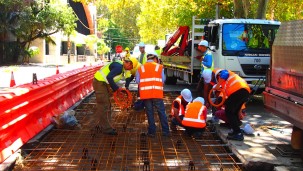 In the first trial of its kind, we've taken industrial waste from coal-fired power stations and steel manufacturing to create a new roadway. Working with researchers from the University of NSW, we've replaced a section of roadway on Wyndham Street in Alexandria to test the green concrete's durability. Made from fly ash and blast furnace slag, geopolymer concrete is a sustainable blend of concrete and recycled materials.
Craig Heidrich, CEO of the Ash Development Association of Australia said 'the benefits to our Association in the Cooperative Research Centre for Low Carbon Living are multifaceted. We anticipate our investment, collaboration with City of Sydney will lead to the publication of our learnings about geopolymer concrete research in the public domain will only further de-mystify and promote the wider specification and use of geopolymer concrete in construction. From an industry perspective the advantages we see for the use of gepolymer concretes relate their; engineering properties, durability, performance, energy reduction and low carbon footprint when used in construction applications'.
Mr Heidrich added 'It's a fundamental tenet in business that you need to be constantly innovating and investing into new technologies. The Cooperative Research Centre for Low Carbon Living has provided an platform to engage with research organisation, supply chain participants and partner with end user organisations such as Ports NSW and City of Sydney and deliver real examples of geopolymer concrete use'.
Geopolymer generates just 300kgs of CO2 per tonne of cement, compared to 900kgs from traditional cement production. The carbon emissions savings is equivalent to the electricity used by an average household every 2 weeks. With 70% of the concrete produced today going into pavements and footpaths, using products like geopolymer concrete for our roads and footpaths has great potential to further lower emissions from our operations. As a major road leading to Sydney Airport, Wyndham Street's high traffic volume provides the perfect conditions for the trial.
Read more about the Sydney drives world-first green roads trial vist the City of Sydney website